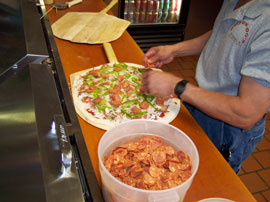 For the past 25 years, Tony Maldonado and his family, has been providing the Silicon Valley area with true New York style hand-tossed pizza. The pizzeria is one of only a few family-owned establishments in the Mountain View neighborhood.
Come and enjoy seeing your pizza crust hand-spun by an award-winning tosser. You'll find each pizza is custom made with a lightly crisp, yet chewy crust that allows the full flavor of each fresh topping to emerge!
Tony's vision is to create a true neighborhood pizzeria where everyone is comfortable and feels at home! At Maldonado's Pizzeria, our philosophy is as straightforward as our pizza. We use the best quality ingredients, we prepare them simply and properly, and serve them with joy.
We hope you will join us soon and experience what many feel is the best New York style pizza in Silicon Valley.
"Excellent pizza. Terrific crust, sauce is perfectly spicy. Forget the chain pizza places, this is the place to go."
- Posted by alfredeneuman
"The absolute BEST pizza in the peninsula. Forget the chain pizza joints for just once and venture out to the land of hand tossed, fully topped, YUMMY pizza...."
- Posted by monanina29
"Hand tossed, heavy hand on the toppings and plenty of dripping cheese. Sauce is deliciously spicy but not too overbearing. This is truly "New York Style." Be sure not to miss out on the Calzones. Prices VERY reasonable, friendly staff and they deliver!!"
- Posted by Sol_Mate

Testimonials are from Citysearch.com